Written by Jarra Gruen, MDS
SD-WAN stands for Software-Defined Networking in a Wide Area Network (WAN). SDN is applied to WAN connections, providing network connectivity that lowers costs and improves resource usage for multi-site deployments, allowing network administrators to use bandwidth more efficiency with a higher level of performance without compromising data security or privacy.
How Does SD-WAN Help My Business?
Everywhere we look, companies are embracing digital transformation. Businesses now view technology as a fundamental part of business strategy, with branch offices at the front lines of this digitization. As companies look at new ways to engage customers, increase productivity, and capture revenue, they turn to the next generation of web applications and immersive content. The use of high-bandwidth applications — videoconferencing, streaming video, e-learning, video surveillance, and VDI — is growing rapidly.  The high cost of enterprise WAN connectivity, support, and personnel combined with the growth of bandwidth-hungry streaming applications and cloud-based services, is forcing many network admins to search for alternatives. 
The solution? SD-WAN.
SD-WAN is an emerging technology that offers several benefits compared with traditional, router-based WANs. Network decision makers can achieve cost savings, increased agility and simplification. IT staff gain a 360-degree view of all devices, users and applications from a single location. 
SD-WAN is a new and transformational way to architect, deploy and operate corporate WANs, as it provides a dramatically simplified way of deploying and managing remote branch office connectivity in a cost-effective manner.
Sign up for a Free SD-WAN Trial 
An Application-Centric Solution
The SD-WAN solution was designed to deliver and automate application-centric connectivity on any platform, for all your users, from a single location. It lets you identify applications, providing ubiquitous visibility of your entire network, eliminating the need for probes or additional hardware. In addition to improved performance and dependability, SD-WAN also establishes path control based on priority, application connection acceleration, and better security between branches. By separating the actual network hardware from its control center, IT staff don't waste countless hours traveling to remote offices to patch or reconfigure hardware. Business-critical applications are controlled by single location quickly with less risk of human error.
Putting SD-WAN to the Test
As the need for a higher-quality WAN service for bandwidth-hungry applications grows, so has the percentage of organizations investing in SD-WAN. Solutions such as Cisco's IWAN, Meraki SD-WAN, Aryaka, FatPipe and SilverPeak help a wide range of businesses boost their competitive advantage by delivering delightful, personalized experiences to employees, customers and business partners.
A few examples include but are not limited to:
Retail:
Retailers are offering ways for their customers to connect while shopping. With SD-WAN, branches can optimize and cache the web content so that the user experience is smooth without the extra expense.
Finance:
Financial organizations are starting to leverage SD-WAN to reduce turn around time on opening new branch/remote offices, and to secure the data between sites. With security at the top of the financial industry's radar, the visibility and security that SD-WAN provides gives these companies the tools they need to effectively manage their remote sites.
Education:
Educators are employing solutions SD-WAN solutions to deliver course content through rich media, where students learn at their own pace, on or off campus, on any device.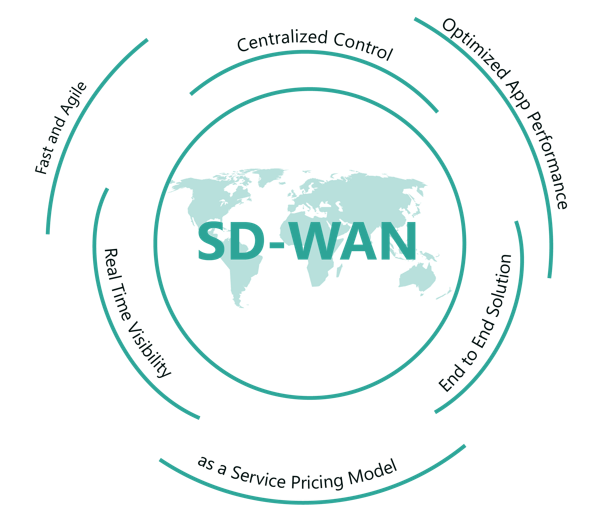 "Digital business is changing the way organizations think about technology, moving technology from a supporting player to a leading player in innovation, revenue and market growth." - Gartner
SD-WAN Value Recap:
Help your organization set the stage for success in a changing technological landscape.
Deliver scalable branch applications and services faster
Free your IT team to focus on growing your business, rather than traveling to and managing network devices
Pay only for what you need
Integrate SD-WAN services into your current systems and applications based on open standards and interoperability
Take advantage of the latest technology that's as secure as traditional on-premise systems
Ready to Take Your Business to the next level with SD-WAN?
The digital transformation is underway, and businesses everywhere are looking for a better way to connect. SD-WAN lets you make the most of today's innovative network services and applications so you can accelerate your digital transformation and do more for with your business, with less cost and downtime. Contact MDS for more information on SD-WAN and how it can become an integral way to improve your IT infrastructure and effectiveness.
Learn How SD-WAN Will Speed Up Productivity
Talk to a MDS Specialist Now!